On Thursday evening I found myself with Miho and Mikako at the Mexican Embassy, which was hosting an event about Mexican-Japanese literary relations. This is not, to put it mildly, my area of expertise, but it sounded like an interesting gig, so with my credo of cultural omniverousness I went along. Most of the talks were in Spanish with Japanese translation, or Japanese with Spanish translation, which was an interesting challenge (I don't speak Spanish at all). The one exception was Satoshi Kitamura, once a long-term resident of England - you may remember Angry Arthur? - who, perhaps because he knew I was in the audience, kindly translated himself into English as well.




From what I could make out through the dark glass of linguistic ignorance it was a good event, with some interesting stats, such as this one showing the huge imbalance between languages that have been translated into Japanese for children's books. (The columns represent English, German, French, Spanish, Italian and Chinese.)




At dinner afterwards I happened to find myself next to Diana Wynne Jones's Japanese publisher, which made for a very stimulating conversation, particularly about titles. (Not only that, the following day I talked with DWJ's Japanese translator about the same subject.)

The 7th July is, as any fule kno, the festival of Tanabata. (Long story short, there were once two stars - let us call them Will and Lyra - who fell in love but were separated, and destined to be able to be with each other only for one day each year, this being that day: it has thus become a festival for lovers particularly.) This was to be a) my first festival in Japan and b) my first opportunity to wear my yukata. My friends Yoshiko and Hiroko had agreed to come with me, and indeed Yoshiko pointed out that her university was holding a Tanabata event, which included a free yukata-dressing service (even Japanese people don't find these things so easy!). Of course, I gratefully took up the offer, and so it was that I found myself on the 8th floor of Taisho University, in a room full of people being yukata'd up, having their hair put right, and so on, under the expert tuition of a group of (it seemed) professionals, two of whom immediately set their sights on me.

I don't suppose there can be any of us who hasn't fantasised at one time or another about being taken in hand by a pair of no-nonsense, Japanese ladies of middle age, and tucked, trimmed and twirled like a kokeshi doll, but I never thought it likely to happen in real life. After emerging from this experience I was passed on to a student to have my hair plaited and my decorative flower attached. The whole thing took, maybe, twenty minutes, and this was the result: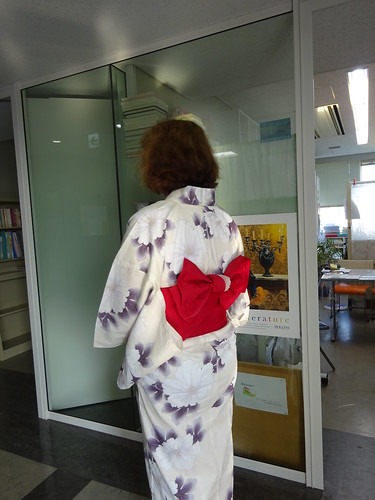 Silk purses and sow's ears, and all that - I think they did a very good job with the material available.

Before the festival, a few of us slipped out for a meal of sake, raw fish and yakitori (yes there were also vegetables - but no, they were not boiled sprouts). In amongst the rest were a first for me, whale sashimi - something I was a little leery of for a number of reasons; but in a "When in Rome, everything comes with garum" spirit I gave it a go. I've got to say, it was really good! And - well, of course this shouldn't be surprising - far closer to beef than to tuna. (My mother has often mentioned the "Whale Steaks" served during wartime austerity as among the worst foods she's ever tasted, but I rather suspect they didn't know the best way to cook them at the Lyons Corner House, let alone prepare them as sashimi.)

The Tanabata celebration we went to afterwards took place at a local shrine - as you can see, it's a colourful event. We each wrote our prayers (mine in Japanese probably illegible to any but divine beings), and hung them with the rest, and shuffled off to bed (as you do in geta).




The following day was the day of my lecture at the International Children's Library in Ueno, which is the children's section of the National Diet Library, the equivalent of the British Library. They sent a taxi to take me all the way from Tonjo to Ueno, about an hour's drive through central Tokyo. I was once again amazed at the decor of Japanese taxis, with their white crocheted (or tatted?) antimacassars, seemingly the product of a cottage industry run by a secret society of international, time-travelling Victorians. (I didn't take a photograph, but try this one for size.) The white gloves worn by the driver didn't faze me, for white gloves are to be seen in so many places in Japan, most obviously since I've been here by the people inside the election vans that drove though Tokyo in the run-up to the recent elections. Apparently the message on the loudspeaker was simply saying, in effect, "Vote for me!", but inside half a dozen white-gloved people (from a distance I suppose only their hands were visible) were smiling and waving, to add a human touch to what could otherwise come across as a rather hectoring message. Once, I was walking up a small side street when one of these vans passed me and a young woman hung out of the side of it, smiling and waving, and I admit that I was struck by her sincerity and, by extension, the economic soundness of the policies advocated by her party's representative. Still, "投票できない" I sadly informed her.

The library is a rather splendid building, and I was given a tour of it, the most exciting bit naturally being those parts the public doesn't get to see, namely the basement vaults, where you have walk across a very large fly-paper to get the dust off your shoes before you can enter. "We keep this at a constant temperature of 22 degrees," Ms Nakajima, my guide, informed me, "to preserve the books." I actually felt it to be a little cool for comfort, and congratulated my body on its ability to acclimatise. But, those whom the gods wish to destroy they first persuade that 22 degrees is a bit nippy, as I would later have cause to remember...

Ms Nakajima went on to tell me that they didn't keep manga - including things like Shounen Jump - at this branch of the library, but at the main branch in Nagacho, because manga wasn't thought of as essentially children's literature. However, they did have magazines for children and teenagers. Wondering exactly what this distinction amounted to, I took a volume at random from the shelf - a pink affair with the words "My Boy" written in English on the front and a picture of a rather beautiful young man. In fact, there seemed to be rather a lot of beautiful young men in evidence, and the volume fell open at a page at which one was depicted (in some detail) giving another oral sex. I'm still trying to get my head around a cataloguing system that classes this under children's literature but excludes One Piece. (According to Wikipedia, in 2009 62.9% of Shounen Jump readers were under the age of fourteen, just as a data point.) But all cataloguing systems have inherent contradictions, because the world's a contradictory place, as I have argued elsewhere...

My Boy was of course a work for fujoshi - mostly straight females who enjoy reading about male-male sex. Has anyone ever done a comparison between that demographic and the slash fiction phenomenon in the West? Probably - but if not, they should.

The lecture went well - and afterwards they sent me some pictures, in most of which I'm grimacing like Theresa May, but here's one that I feel sums up the actual spirit of the event far better, although you wouldn't get that there was quite a large audience. To my left sits Professor Hishida, who was acting as my interpreter:




I got the taxi back, feeling strangely tired, but I put that down to nerves (not that I'd felt nervous, but perhaps my body knew better?), and stopped off at the little restaurant next to Tonjo called Paper Ban - odd name, but there you are - and ate a curry and rice topped with grilled cheese, a surprisingly satisfying combination. Then I went to bed at 9pm, feeling very tired....

... and slept feverishly for the next 12 hours.

At first, of course, I blamed the mosquitoes. Could it be malaria? Did it call for a G&T? But Dr Google said no, Japanese mosquitoes are malaria-free - so I tried to cure myself of hypochondria by rereading the first chapter of Three Men on a Boat, a worthwhile experience at any time, and reconciled myself to the fact that it was probably the heat, and constant mixing of heat with air-conditioned cold - the same thing that triggered my previous fever, four years ago in Boston (in the UK I never seem to be ill).

Anyway, I've been living with that fever for the last few days. It tends to hit in the evening (it's due just around now, in fact), sends me shivery, coughing and sans appetite to an early bed, and then releases me in the small hours, a little spacey and weak, but able to do some basic things. On Sunday, for example I was able make it to Kagurazaka for a lunch date with my internet friend Yuki (she's the one in the middle), though my appetite wasn't great:




And on Monday for a lunch date with my other internet friend Yuka in Shibuya (I also have friends called Yako and Yoko, in case you're wondering). She'd come from Kobe specially, so I could hardly cancel - besides, I was really pleased to see her.




And on Tuesday Miho's class came to my flat for tea, after a Q&A session:



Me and my Crew

But I was not at my best for any of these events. And I had to cancel Tomoko, and decline invitations from Akira, Yasuko and Chie...

Yesterday I spent more quietly still, venturing only a short air-conditioned bus-ride to the cinema to watch the first film from Studio Ponoc, Mary and the Witch's Flower. If you haven't heard of Studio Ponoc it's run by a lot of ex-Ghibli staffers, and the director of this film is the Hiromasa Yonebayashi, who also directled Arrietty and When Marnie was There.




Since this film too was based on an English children's book, Mary Stewart's The Little Broomstick (1971), I was curious to see what he'd done with the source material - especially since, compared with The Borrowers and When Marnie was There, the source is pretty slight. I was feeling quite good, though on the bus-ride I ran through the Crispin's day speech in my head and found my cheek wet with tears, which wasn't a good sign (though to be fair I'm easily moved to tears and that speech is a blinder).

I'd seen from the trailers that Mary and the Witch's Flower appeared to be set in England, which is what made it especially intriguing to me, the other two stories having been transposed to Japan. And it was indeed set there, although this is never mentioned. Even more specifically, the landscape looked just right for Shropshire, the book's setting. The house, the character's clothes, the street, all looked right - except, oddly for Peter, Mary's friend, who in the 1971 book is the vicar's son, but here appears (to my eye) to have wandered in from America:



Genuine question: would you be surprised to see a rural Shropshire 12-year-old dressed this way?

Overall the film was in improvement on the book, I thought, though it did recycle an awful lot of Ghibli tropes. One interesting thing is that, while everyone spoke in Japanese (obviously), when they wrote, they wrote in English. I wonder what the reasoning is there? Is it somehow more implausible, or more illusion breaking, to be seen to write Japanese than to be heard to speak it?

I felt reasonably good after the film, to the extent of making a plan to visit Shakey's for a tentative pizza, and then the shop called "Snobbish Babies" on the fifth floor of the station. (What can they sell?) Alas, before I'd got very far into the pizza the shivers descended again and forced me homeward. So today I've been extra quiet, writing blog posts and doing other such harmless nonsenses, but this one has already gone on quite long enough, so I will leave you for now with a calming picture of some carefully packaged but hugely expensive, and no doubt very delicious, Japanese fruit.




Yes, that mango really will cost you £9.50